What is gondola shelving? This is a question commonly asked when buying retail shelving. Gondola shelving is a double-sided, free-standing unit with retail shelves on both sides, suitable for placement in the centre of the shop floor to divide the shop and create aisles. Gondola shelving units are designed to maximize floor space, adding flow and direction to foot traffic and encouraging customers to browse throughout the whole shop, which can increase sales and impulse buys. Gondola shelving units come in several different heights and depths to suit different shelving requirements.
What is gondola shelving used for?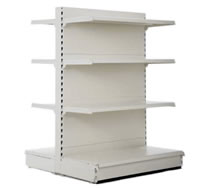 * supermarkets
* pet shops
* fixing supples
* auto centres
* convenience stores
* cash and carry
* discount stores
* liquor outlets
What is wall shelving?
Wall shelving is designed to have shelves on one side of a free-standing unit, and can be fixed to a wall for added stability. Wall shelving units come with plain back panels as standard but these can be changed for pegboard backing depending on your products and requirements. The standard height for a wall bay is 2100mm but there are many more heights are available.
Uses for wall shelving: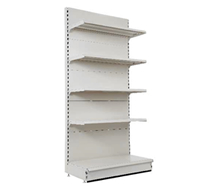 * supermarkets
* pet shops
* fixing supples
* auto centres
* convenience stores
* cash and carry
* discount stores
* liquor outlets
What is a promotional bay/end bay?
End bays, or promotional bays as they are sometimes known, are shelving units that can be placed on the front or back of a gondola, often to feature promotional goods or fast selling lines. End bays also tidy the ends of a run of gondola units, giving a clean and finished look to the shop. As with all shelving units, an end bay is versatile and adjustable, and its shelves can also be removed and be replaced with peg board backing if needs be.
Uses for end bays:
* to hide the end of gondola units
* to promote new products
* to display seasonal products
3 easy steps to choosing the right gondola shelving
Step 1
choosing the right height:
Choosing the right height of gondola unit is important, as choosing the wrong one can be costly. Too low and it can be hard to display and merchandise a wide selection of products. Too high and it can obstruct the view and compromise on security. 1.4m -1.6m is a standard height, and the best-selling gondola shelf for small to medium shops. Heights of 1.8m-2.1m tend to be more suitable for the larger supermarkets and cash & carries.
Large gondolas can, however, be used in smaller shops if the counter is positioned so a clear line is visible down both sides of the shelving. This way the shelving won't obstruct the view from the counter and the shop owner will be able to see both aisles clearly.
Step 2
measuring the shop:
The next step is to measure the width of the shop, starting from the edge of the existing shelving or refrigeration unit to the opposite wall. If the shop is empty the best way is to mark the floor - this can be done by using chalk or laying card on the floor to help you to visualise the shelving or refrigeration units. From each wall, measure out towards the centre of the floor, ensure you leave enough space between shelving units to get a pram or wheelchair down each aisle - approximately 900mm. The measurement left in the centre of the floor will give you the maximum width of gondola unit you can use to create your aisles. If you are unsure on the minimum size allowed for each aisle, call your local council, as it this measurement is calculated according to the square footage of your shop. It is always better to have a wider aisle than a narrow one, even if this sacrifices shelving space, as cramped aisles are off-putting and can have a negative affect on your store.
Step 3
Choosing the right width:
Its not always best to go for the deepest shelves possible, as this can make them costly to stock. Half-stocked shelves will give out the wrong impression whereas fully-stocked shelves give the impression of more choice and availability. Gondola base shelves with a width of 370-470mm are the most popular choice for a small to medium size store. 250mm base shelved gondolas with 200mm upper shelves are normally used for sweets and confectionery, as the shelves can be tilted at an angle. Shelf risers can be added to angled shelves stop products sliding off.
Help and Advice
If you would like any more help or advice on planning and designing your shop, please don't hesitate to call the Shelving4Shops design team on 01455 221512. Alternatively, please visit our showroom situated between COVENTRY and LEICESTER in the Midlands, where you can browse and choose from a large selection of shelves and accessories.
---